Members of the Nursing Network recently launched by the European University Hospital Alliance (EUHA) were able to hold their first in-person meeting in Berlin on 2 and 3 September. After various online meetings following its start earlier in the year and official launch in June 2021, the network's experts from the fields of nursing education, training, management and research were finally able to come together to initiate joint projects and working groups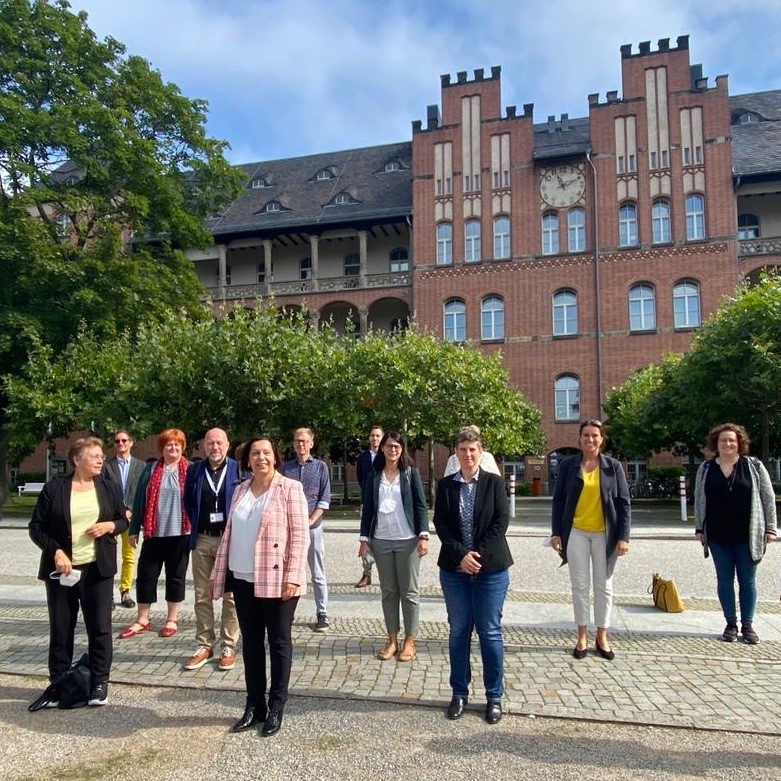 2 September 2021.
Much of the discussion centred around the subject of training and the various different career paths which university hospitals offer nurses and other health care professionals. While most of the nursing professionals in Germany and the Netherlands gained their qualifications through vocational training routes, other countries have fully established bachelor programs which also offer the option of completing additional study at masters and even doctoral level. "It is extremely useful being able to discuss the various training and career pathways with experts from across Europe, not only in terms of exploring new ideas on how to add to and organize our new Bachelor programs at Charité, but also in terms of discussing opportunities for inter professional career development," says Charité Nursing Director Judith Heepe who, as the EUHA Nursing Network Coordinator, headed the team responsible for organising the meeting.
Another topic that was explored from multiple European perspectives was 'Nursing Science and Research'. In addition to acknowledging the structural and cultural differences in the way nursing science and nursing research are organised at individual institutions, the participants also agreed that there are numerous gaps in nursing research which remain to be filled. The discussion generated multiple ideas and suggestions for joint research projects, including on the areas of patient benefit and digital solutions in nursing. Seeking to encourage members of the new Network to become active within the field of nursing research, Lynn Seveke, Head of the EUHA Office situated within the Vall d'Hebron Barcelona Hospital Campus, says: "The EUHA offers an excellent platform for the launch of European research consortia, which have already proved very successful in securing EU funding. We also launched EUHA GRAIN platform, which will provide support to other EUHA working groups hoping to identify suitable programs and calls for proposals."
In addition to conceptual and research-oriented projects, the Nursing Network also wants to provide practical support to promote mutual learning via a structured staff exchange program. Leading the way were two nurses from the Erasmus Medical Center in Rotterdam, who used the meeting as an opportunity to spend a day each at Charité's Main Emergency Department and two wards. In addition to getting a good idea of day-to-day operations at Charité, they were also able to exchange experiences with their ward-based colleagues.
The meeting of the European nursing experts concluded with the participants' commitment to continuous and intensive exchange and discussion. Furthermore, there are plans for working groups to be set up covering: the areas of nursing training and the 'academisation' of nursing; career paths; the recruitment and retention of staff; quality in nursing; and nursing science and research. Initial results will be presented at the Network's next meeting in 2022 in Rotterdam.